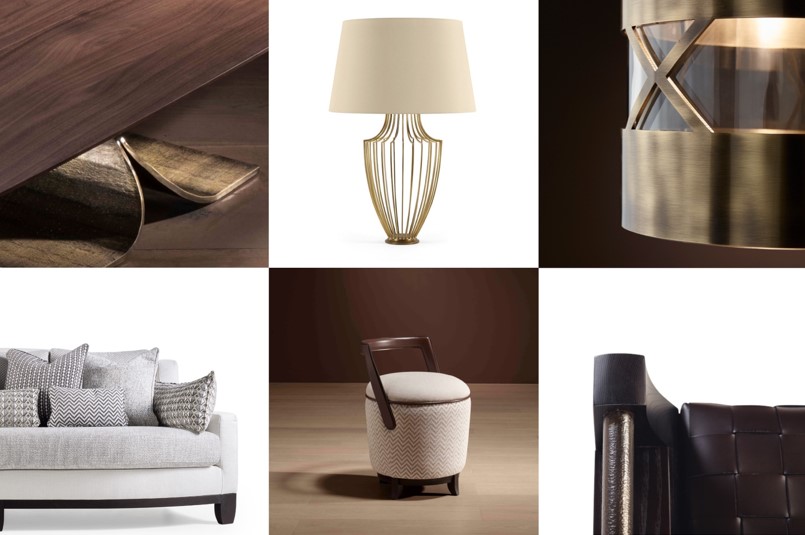 If your company is thriving and produces something really unique, you'll probably wish to demonstrate your accomplishments at trade exhibitions. Or even more, you will have to do it, if you want to keep abreast of the industry trends and establish mutually beneficial co-operation with potential business partners.
That is why, Bellavista Collection, a well-known manufacturer of Italian luxury furniture, regularly participates in the biggest trade event: Salone Internazionale del Mobile (i.e., International Furniture Salon), which takes place in Milan.
Salone del Mobile was the event where Bellavista Collection first showcased a number exhibits under its own brand. It happened a dozen years ago, in April 2010, and ever since then Bellavista has never missed live editions of this remarkable trade fair.
Shortly after, in January 2013, this young yet promising brand took part in one more reputable and prestigious trade fair.  Pretty soon it will be 10 years since Bellavista first participated in Maison et Objet, often shortened to simply M&O.
Design of the items presented there was inspired by ever-charming France. Looking at any of them, visitors instantly noticed the fleur of finesse, luxury, and sophistication, which often is called à la Française.
Even some of the showpieces' names sounded French. The nice-looking chandelier was named MADEMOISELLE, and the stylish sofa was called JOSEPHINE. The gorgeous BOUQUET BOIS coffee table caught visitors' eyes at once. So did AMELIE table lamp, ODETTE bench.
That's not to mention TULIPE dining table, GRACE armchair, BUTTERFLY table lamp…
Bellavista Collection's debut in Paris was a success: attendees of M&O 2013 greatly appreciated the collection from a brand they hadn't known yet. Well, the French are often said to have an eye for beautiful things and tasteful design.
Elegance and Quality
Let's take a quick look at some of the showpieces that turned heads twelve years ago in Paris.
The items are put in alphabetical order, because it is really difficult to choose what one to start with. They all are so beautiful!
AMELIE table lamp attracts attention at once. Thanks to the interesting form of its metal base with antique brass finish, AMELIE not only serves as a lighting fixture, but adds zest to the room. Its classic-looking lampshade is made of beige viscose, which excellently harmonizes with opaline plexiglas of the diffuser.
In spite of its name, BAROCCO boiserie is rather classic-looking. If you love fashionable designs and prefer natural materials, BAROCCO panels, fully padded in fabric, are just what you need.  Optional skirting and crown molding are also padded in fabric. The material for padding could be of category A, B, C, Lux and Extra Lux. Alternatively, you can provide your own material. If you wish, the paneling could have a mirror insert.
The gorgeous look of BOUQUET BOIS impressed visitors of M&O greatly. Its round top, 60 centimeters (23.6 inches) in diameter, is made of 15-millimeter-thick extra clear glass. The top rests on three crisscrossed legs, made of hammered cast brass with antique bronze finish. Thanks to its brilliant design and the successful combination of materials, BOUQUET BOIS looks striking. It's not anymore in the regular collection now but it can always still be ordered.
The overall appearance of BUTTERFLY table lamp is somewhere between classic and modern.  The unusual form of its metal structure (made of cast brass with antique bronze finish) instantly attracts attention. The lampshade, made of silk of eye-pleasing champagne color, makes the lamp feel really cozy.
Designed in 2011, GRACE armchair lives up to its name: its outline is extremely graceful and elegant. Its feet are wooden, with four options to choose from. As to the upholstery, this armchair is offered both in leather and fabric, with lots of variants for each option.
The same could be said about JOSEPHINE sofa as well. In fact, most of upholstered pieces from Bellavista Collection are available in numerous kinds of both leather and fabric. JOSEPHINE's base is made of solid moka stained ashwood.  Besides, this sofa has four size options that differ in width, that come together with 2, 3, or 4 back cushions. JOSEPHINE looks very beautiful and feels comfy, so it's no surprise that this sofa enjoys great demand.
MADEMOISELLE chandelier will be an excellent choice for a great many people: this ceiling lamp will easily blend into a room furnished in a variety of styles, from classic to hi-tech.
The structure, made of brass with antique bronze finish, combined with fumé glass its lampshade is made of, looks stylish indeed.
MIRÒ pouf actually resembles an ultra-compact armchair, because it has a back (made of metal, padded in belting leather).  MIRO is very comfy to seat in, so it will be pretty suitable for a small room, as well as for a reading or computer nook in a larger living-room.
The structure of ODETTE bench is made of solid moka stained ashwood. This dark-colored wood perfectly harmonizes with of hammered brass with antique bronze finish ODETTE's handles are made of and any of the three variants of its upholstery. The latter includes a variety of fabrics, leather, which also comes in lots of colors, or woven belting leather, with five colors to choose from.
What is special about the dining table named TULIPE is its two massive legs, made of hammered metal with brass finish. Its wooden top could be veneered in fine nine woods, plus three kinds of marble offered for the oval optional top insert.
All these pieces look so grand that Bellavista's success at M&O was quite natural. From the very inception of the brand, Bellavista has been keeping focus on top quality and handicraft rather than mass production. Attilio Zanni, the brilliant designer and the co-founder of the brand, has always preferred timeless elegance to following any trends, however popular they might be at the moment.  This probably is one of the reasons why this group of pieces, first showcased a dozen years ago in Paris, still strikes the eye.
Related Posts