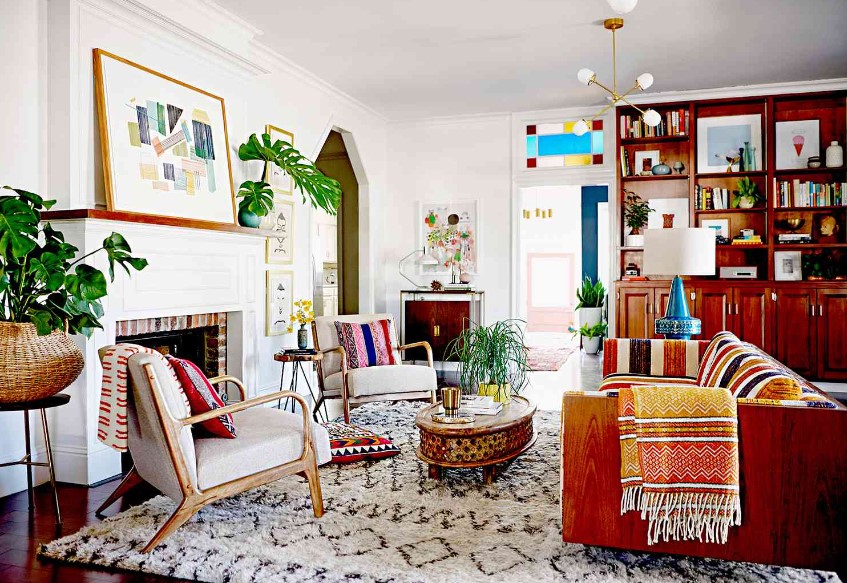 If you want to spruce your home, consider introducing rugs into your décor. Rugs are one of the fastest and easiest ways to add a touch of style, comfort, and color to any room in the house. Not only do they provide a sense of luxury, but they also help create an inviting atmosphere for both friends and family alike. However, it can be tricky to incorporate them successfully into your existing interior design without making the space look cluttered or off-balance. In this blog post, we will look at some essential styling tips on how using area rugs can make all the difference in creating beautiful spaces that inspire creative thinking – from selecting the proper size rug for each room to adding texture with custom-made designs. Just follow our simple guidelines and watch as your home transforms!
1. Use Rugs to Define Areas
One of the best uses for rugs is to define a specific area in an open-plan living space. Whether you choose to go with a rectangular, circular, or runner-style rug, it will help to separate one area from another by providing a visual cue. For example, place round rugs under coffee tables in your lounge room to create designated seating areas and separate the space from the dining area.
For a living room, choose a larger-sized rectangular or octagonal rug to fill the space, which you can combine with smaller scatter rugs. You can give bedrooms a cozy feel with round rugs at the sides of your bed, while runners work well in hallways and corridors to create a focal point.
2. Consider Color Palettes Carefully
Choosing the right color palette for your rug can be tricky, as it must complement your existing décor and stand out as a statement piece. For example, if you have a neutral color scheme in the living room, try introducing bold and vibrant colors to create a lively atmosphere. Alternatively, if your interior design is already quite bright and colorful, go for something more subtle so it doesn't overpower the overall effect.
As with any other room in the house, it's essential to consider the tone and mood you would like to create when selecting colors for a rug. You can use warmer colors such as reds, oranges, and yellows to add energy and vibrancy, while cooler shades of blues and greys are better suited if you're looking for a more calming effect.
3. Invest in Quality Materials
When it comes to investing in a rug, you want to ensure that you're getting your money's worth, which means looking for rugs made from quality materials. Natural fibers such as wool or silk are always a good option, as they are known for their durability and luxurious feel.
If you're looking for something a little more hard-wearing, consider investing in synthetic fibers, as these are often cheaper and less prone to wear and tear. Sheepskin rugs are also popular, as they offer the ultimate comfort and luxury while still being easy to care for. Hide Rugs has some great options if you're looking for something unique. You may also want to consider investing in a custom-made rug by engaging the services of an experienced rug maker.
4. Get Creative With Custom Made Designs
If you're looking to make an impact with your rug, then consider investing in custom-made designs. This is a great way to bring your unique style and personality to your home, as you can choose from various patterns and colors to create something truly unique.
Custom rugs are not only great for creating statement pieces, but you can also use them to add texture and interest in small or difficult-to-decorate spaces. Hide Rugs has a great selection of custom-made designs, or you can use their bespoke service to create something truly unique.
Choosing the right rug for your home is an important decision and one that you should not take lightly. With simple guidelines and creative design ideas, you can transform any space in your home with the perfect rug.
Related Posts