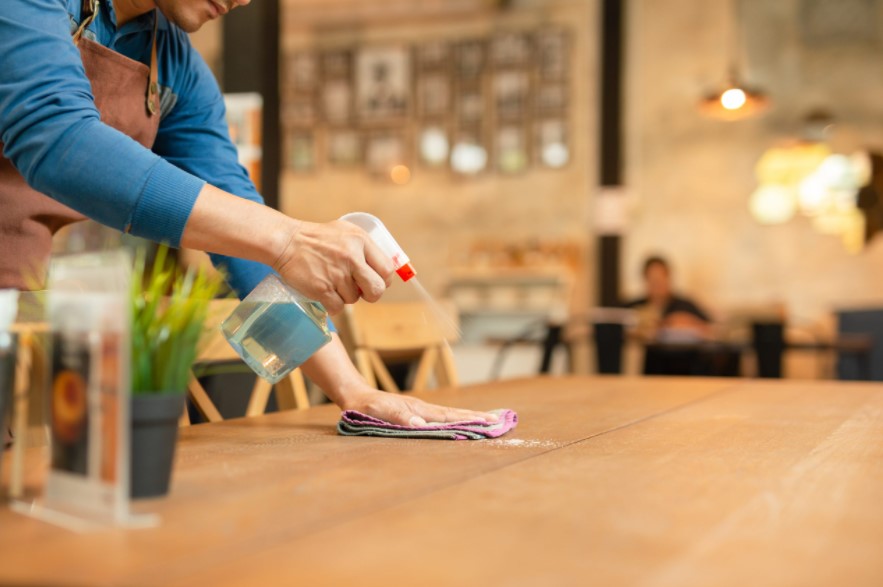 Restaurant owners must acknowledge that food isn't the only thing that brings customers to an eatery's threshold. A calm ambiance, attractive décor, and a clean and hygienic dining space play a huge role as well. Aside from serving delicious food, restaurant owners must also emphasize offering a clean space for their customers to dine or simply hang out in.
However, one must proceed with caution when cleaning Restaurant Furniture. You need to take the material, size, and structure of your furniture into condition before you proceed to brush or wipe your chairs, tables, and booths clean. You stand the risk of damaging your furniture permanently if you are using an inappropriate cleaning solution or simply being a tad bit rough in your endeavors.
Restaurant furniture is already susceptible to high damage because of the high-traffic environment it usually inhabits. You do not want to make matters worse by damaging them in your efforts.
So in this article, we will leave you with a few tips that will come in handy when you are cleaning your restaurant furniture.
Guide to Restaurant Furniture Maintenance and Cleaning
1 – Inspecting Restaurant Furniture
To ensure your restaurant furniture undergoes proper maintenance, you must inspect them periodically to detect flaws in their design before your customers notice them. Here are a few things you should mark off your checklist when inspecting furniture:
Make sure your restaurant tables and chairs are sturdy. Examine them for any unusual wobbles or loose joints. Also, make sure your tables are steady enough. If you notice these issues check if your furniture is missing any screws. Send them for repair immediately if you notice these issues.

Ensure your barstool swivels and glides are well oiled.

Inspect furniture that possesses any fabric. Check whether they have any tears or loose seams

Dispose of furniture that can be considered a potential safety hazard.
2 – Cleaning Restaurant Furniture
The actual cleaning process of furniture isn't difficult at all. However, you must pay attention to certain things to make sure you don't end up causing lasting damage to the furniture you are supposed to take care of. To keep furniture unharmed, you need to understand how different cleaning agents react to different materials.
For instance, the cleaning process for vinyl surfaces will be considerably different from that of metal surfaces. The cleaning process will also depend largely on the location of your furniture in the restaurant.
So here are tips to consider when cleaning your restaurant furniture based on its location.
Indoor furniture is more susceptible to damage. However, it is also the easiest to clean. In most cases, simply dusting or wiping the surface with a damp cloth will suffice.
Outdoor Furniture suffers from prolonged exposure to heat, pathogens, and dirt. It is recommended to use all-purpose cleaners to keep this furniture in good condition.
Cleaning Based on Furniture Surface or Material
Laminate Tops: Best cleaned with liquid detergent, mild soap, and warm water.

Granite Surface: Best cleaned with warm water and detergent

Plastic Surface: Best cleaned with all-purpose disinfectant sanitizer

Wood Surface: Best Cleaned with cleaning agents that contain hydrogen peroxide or ethanol alcohol.

Metal Surface: Soap and Water solution will suffice.

Glass Surface: Use a disinfectant before cleaning the surface with soap and water solution

Resin surface: detergent and warm water to clean. All-purpose cleaner with furniture polish can help with scratch marks.
Conclusion
To ensure you have no recurring issues with the maintenance of your furniture, we advise buying quality furniture after inspecting its overall durability and strength. As such, if you are looking for high-end restaurant furniture, then look no further than Restaurant Furniture Plus.
We are home to a wide range of tables, chairs, restaurant booths, etc. catering to all types of restaurant styles. We customize furniture according to your specific needs.
You can visit our store today to explore our massive catalog of Restaurant Furniture.
Related Posts