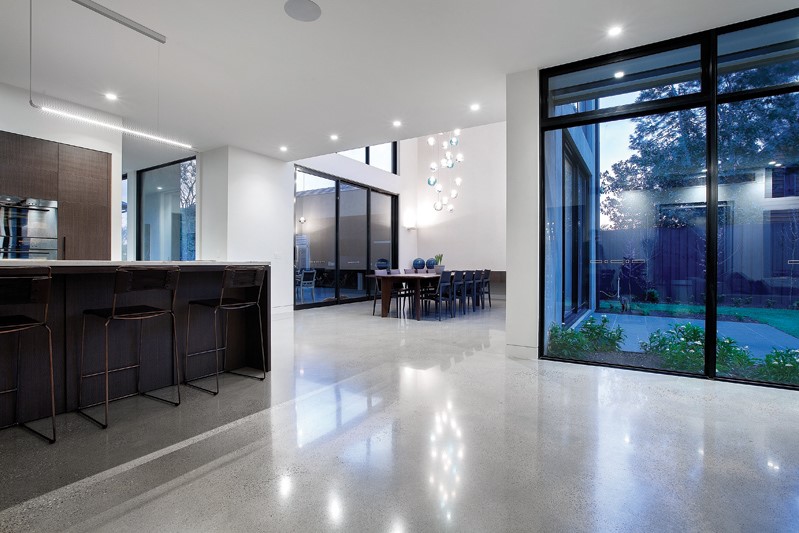 Geocrete: Invermay, satin gloss Geoshine, Grey Granite and Brown Hornfels with Black oxide
Concrete can be a really versatile material, no matter what you live or what your home looks like. It's easy to clean, works well with most architectural styles, and is always easy to update, should you want to go down a different design route in the future. The big question, as with many important components of your home design, is how on earth do you take care of it? After all, if you're going to make the investment, you probably want it around for a while and in top-notch shape. It doesn't matter if you're going to be living in your home for decades to come, or if you're designing to sell in the near future – it always pays off to take care of your home.
That's why, today, we're partnering with Geocrete – a company whose mission is to provide the best polished concrete floors possible. Right there in the mission you see the two key words for the day – polished and concrete. That's right, we're discussing the best ways to keep your concrete floor spotless and easy to navigate. Let's dive in.
Polishing takes a few different steps and you want to make sure that you have all the right tools. If you're used to working with sanding wood, you're in luck. A lot of the steps and things to have on hand are the same. The Geocrete team uses machines that are often tooled with diamond-segmented abrasives. Not familiar? They're basically the same as sandpaper and can grind down concrete surfaces. When properly used, they'll reveal the smoothest and most shiny versions of your concrete floor.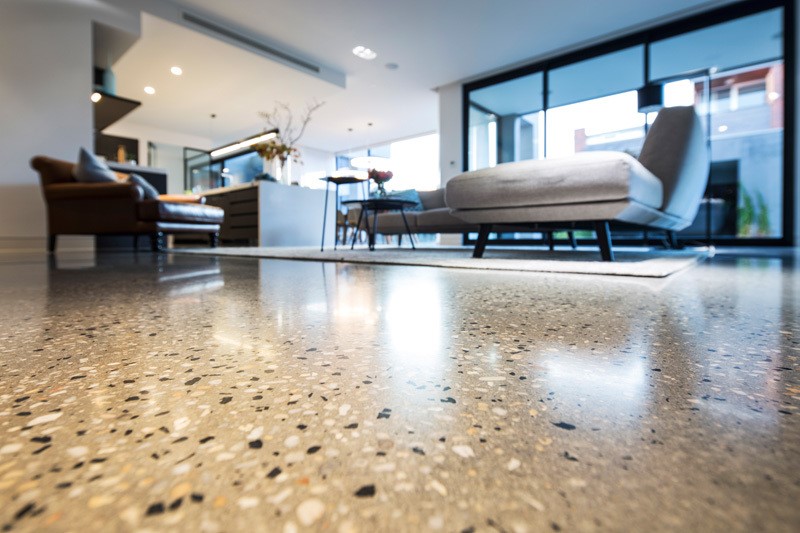 Geocrete: Kew, satin gloss Geoshine, quartzite and basalt with grey base
If you're looking to explore more manual routes, you still have a choice between polishing concrete using a wet or dry method. If you decide to dry polish, you're in the majority; it's a far more common method. There are so many benefits here – it's better for your carbon footprint and is more efficient for both your schedule and your wallet. No water. Whether you're doing it yourself or hooking up to a containment system, the dust is gone quickly.
Wet polishing has a lot going for it too. Water is the star of the show here, which cools the diamond abrasives but still eliminates any dust that is elicited during the grinding. It's a natural lubricant, so the successful results can last even longer. Only drawback here? Ah, the clean-up process. This is when you generally want to bring in the professionals, so that they can remove the access mess in a way that's still good for the environment.
Either way, there are some easy steps to walk you through the process and set you up for success:
Make sure you have no existing coats
Seal off any cracks. You can use epoxy.
Grind down the floor, using your preferred level of grit metal-bonded diamond
Harden the floor with an industrial grade hardener
Apply stain guard as necessary
Feeling overwhelmed? Don't worry, with information like this, it's easier than you think. Questions? Comments? Give us a shout. And be sure to check out the Geocrete Website.
Related Posts